Shower Pan vs Tile Floor (Guide to Choose)
A bathroom renovation is a major undertaking, and one area which rightfully receives major consideration is the floor surface of the shower. Many different options exist for the flooring of a shower, and it is important to consider the specific needs of a bathroom project and the project budget before making a decision as to your shower floor choice.
Shower pans have numerous advantages over tiled floors in a project with a standard-sized shower. Shower pans are usually more economical than tiled floors, and there are many options available to suit any style and budget concerns. Tiled floors afford more flexibility for the shower's shape and style.
There are several factors to consider when choosing a floor surface for your shower, and it is important to know exactly what you would like to achieve, as well as what your budget is, before making your choice.
Comparison of Shower Pans and Tiled Floors
Shower pans, also referred to as shower bases, are single-piece units that form the floor of a shower. These single units are prefabricated and are made to be installed on a level floor surface with little extra work required.
There are many different types of shower pans made of different materials, but they all follow the same principle of creating a simple singular floor surface for a shower that is easy to install, low on maintenance, and allows for a cohesive shower system to be created.
Tiled Floors
A tiled shower floor is considered to be the most desirable and high-end option for a home, especially when it comes to resale value. Due to the enormous availability of different types of tiles on the market and the ability for tiles to be customized to fit a shower of any shape, tiled floors present the most flexible option.
In order to create a tiled floor surface for a shower, several features need to be constructed.
Guide to Install
Firstly, a screed must be formed which levels the floor while creating the correct fall to allow the water to drain. A waterproof membrane must be added which will prevent any issues with water at a later stage, and the tiles must then be affixed to the surface, after which grout is applied.
Because tiled floors are affixed directly to the surface, they are exceptionally difficult to remove, and any renovations or repairs may require ripping up the entire floor.
The grout in between the tiles is highly prone to collecting stains and dirt, and this is also very difficult to clean.
If tiled floors are not installed properly or waterproofed properly, they will inevitably need major repairs due to water leaks.
Cost
Tiled shower floors are usually far more expensive than single-piece shower pans. This is due not only to the extra materials required but also to the extra labor required. A tiled shower may take a week longer to install when compared to a shower pan, and this extra time translates into significantly higher labor costs for the project as a whole.
Shower Pan

The "ready-to-tile" shower pan is a closed-cell unit (made of lightweight Styrofoam) that is manufactured already waterproofed and ready to be tiled.
The fact that this shower pan is extremely lightweight means that it is easy to carry to its desired destination while remaining strong enough to withstand any reasonable forces it may have to endure.
Ready-to-tile shower pans are significantly cheaper than their solid surface competitors, however, the additional cost of the tiles and grout must be considered. Any tile can be used, which means that your options are unlimited when it comes to customizing your shower floor to your desired aesthetic.
Molded Stone Shower Pan
This is a high-end solution with a relatively high price tag. Molded stone shower bases are made of a combination of natural stone and synthetic plastic. This creates a luxurious, easy to clean shower base with good durability.
This type of shower pan naturally does not require grout, accessories or extensive labor, and the prices begin around $800.
Cultured Marble Shower Pan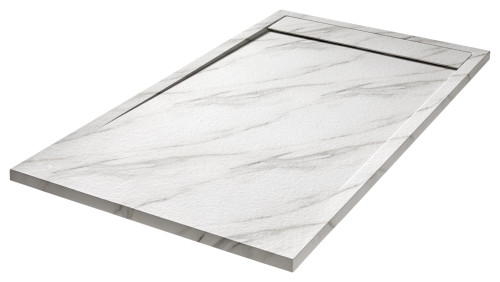 This is another high-end option that provides unparalleled strength and longevity which is unmatched by its synthetic counterparts. Besides the added cost of the pan itself, there are added costs associated with installation due to the material's inherent fragility prior to installation.
Once installed, however, cultured marble is stronger than fiberglass or acrylic, and the only maintenance required is a simple wipe down.
Marble is a porous stone, and so it may absorb color from certain chemical products if it is not correctly sealed or treated prior to use.
Acrylic Shower Pan
Acrylic shower pans are an affordable option that is also lightweight and durable by nature. Starting at around $200, this type of shower pan is one of the most affordable options while remaining quick and easy to install.
Another advantage is the fact that this type of shower pan is usually easier to clean with no grout lines to worry about, and there are fewer problems with leaks that might warrant repairs for the shower.
A disadvantage of the acrylic shower pan is its tendency to become scratched and form small cracks over time. This can cause water leaks which can result in rot and mold, as well as discoloring of the shower pan itself.
Acrylic shower pans are usually sealed using caulk around the edges, and one disadvantage of this is the fact that caulk can begin to fail with time, causing potential waterproofing issues.
Fiberglass Shower Pan
Fiberglass shower pans are the cheapest option when it comes to single-piece shower pans, with options often below the $200 mark. This cheap material tends to become stained very quickly, and mineral deposits may build up over time.
Because abrasive materials will be required to remove the mineral deposits, cleaning them will result in scratched fiberglass.

Also Read: Guide to Unclog Shower Drain
Conclusion
When making a choice between different types of shower bases, always consider the initial material costs and labor costs, as well as the material costs and labor costs that may emerge over time.
Read More: 6 Types of Shower Drain Covers